Key Steps to Satisfying Workforce Needs
According to the Bureau of Labor Statistics most recent report released on March 10, 2023, the unemployment rate for March was 3.5 percent. The unemployment rate has hovered at this level over the last 12 months, ranging between 3.5 percent and 3.7 percent, except for in January 2023 where it dipped to 3.4 percent, which was the lowest rate since 1969. During times of low unemployment, employers may struggle to meet their hiring and retention needs for a skilled workforce. Without a skilled workforce, industries find themselves struggling to maintain production levels to meet customers' needs and sales or growth goals.
Read the complete article from Area Development here.
More Topics
Junction City, the county seat of Geary County, Kansas, boasts superb internet connectivity thanks to Twin Valley, a 4th-generation family-owned local provider of gigabit broadband, fixed wireless, and managed IT services. Twin Valley is the largest privately-owned broadband and communications company in the state. The company is ahead of...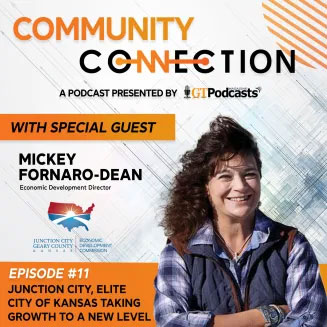 In this episode of Community Connection, we will speak with Economic Development Director,  Mickey Fornaro-Dean, to learn about what makes Junction City, Kansas such a special and unique opportunity for business. Click here to learn more and listen to the pod!

With data centers, there isn't much of a gray area. To most observers who live, work or play around these often immense structures, they're rather dull but necessary monoliths. They can lifelessly loom along a given horizon, which one might encounter driving through what's known as Data Center Alley...